Dodging milenyo
I check my blog every week and feel absolutely dreadful that my last post was made in August, three whole months ago. No excuses, just plain and simple laziness to write. And since I am still in this state, this is all I can give.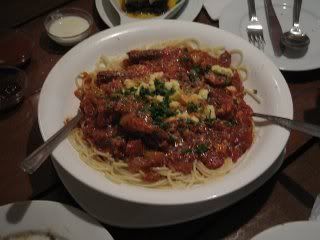 Spaghetti with prawns and ricotta
Ozzo Bucco Spaghetti
Moussaka
Beef and Chicken Enchilada
Vegetarian Taco Platter
Chimichanga
If by any chance I whet your appetite (wait.. I'm sure I did), be sure to visit Cyma and Mañana Bora on your next trip to Boracay. I had these when I went back to the island last September yet I can't get over them. By the way, they have Cyma at Shang already so we can have our big fat Greek lambchops anytime we want. How considerate. Sadly for Mañana Bora, I only have these pictures to drool at.

For bonus, I leave these pictures of Puka Beach and what Crocodile Island is best known for.